<![if !vml]>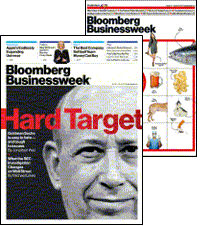 <![endif]><![if !vml]>

<![endif]>
From April 2010 Bloomberg Businessweek marks the reinvention of the business magazine. At a time when the competitors are cutting back on journalists and editorial pages, Bloomberg Businessweek is able to expand and deepen our coverage:
<![if !supportLists]>- <![endif]>doubled the number of stories
<![if !supportLists]>- <![endif]>20% more editorial pages
<![if !supportLists]>- <![endif]>increased frequency – 47 to 50 issues per year
Bloomberg Businessweek is a trusted source of essential, comprehensive insight that business leaders depend on to get ahead. Combining the innovation and scale of Bloomberg with the insight and depth of Businessweek, the new Bloomberg Businessweek offers a global perspective to help senior executives profit from smarter, faster, and more informed decisions.
Bloomberg Businessweek, founded in 1929, is a market leader, with more than 4.7 million readers each week in 140 countries.
Bloomberg Businessweek can now draw on 1,700 journalists in 146 bureaus across 72 countries, has more reporters, all over the world, asking the questions that you want answered; this gives Bloomberg Businessweek unmatched scale and an incredible global perspective to deliver to our readers. Thus Bloomberg Businessweek is capable of covering the business world like no one else can.
Bloomberg Businessweek launched its newly redesigned magazine, creating a more compelling source of insight and information for today's global business executives.
The new Bloomberg Businessweek includes expanded content, new sections, and a completely retooled and enhanced navigation.
Bloomberg Businessweek reflects the commitment to editorial excellence and delivering readers the most essential business news. Businessweek's 80-year history of providing deep business insight, trend analysis, and leadership perspective, combined with the innovation, expertise, and scale of Bloomberg, make the new Bloomberg Businessweek an unparalleled force."
The mission remains the same – to cover the world of business and prepare readers for the week ahead – but the new Bloomberg Businessweek offers more news, more angles, more locations, and more insights
The magazine features a completely redesigned cover, which features a bold new logo and touts up to 10 stories, showcasing for readers what is inside the magazine beyond the cover story. The magazine begins with Opening Remarks, a richly reported essay on one of the week's most important stories.  This is followed by three departments: the news-driven Sections department; Features, which includes deeply-reported stories and investigations; and Etc., coverage of the workplace and life away from it.
Bloomberg Businessweek's new design reflects Creative Director Richard Turley's vision of a comprehensive, easy to navigate magazine, with small color cues for each section and bold, clean headlines.
Highlights from the new design include:
<![if !supportLists]>§ <![endif]>Sections: The front of the book is news-driven, offering a comprehensive look at five key business categories:
<![if !supportLists]>- <![endif]>Global Economics - dedicated to coverage of trade, currencies, and foreign policy;
<![if !supportLists]>- <![endif]>Companies & Industries -  focusing on mergers & acquisitions, leadership challenges, new product launches, and other news related to global business;
<![if !supportLists]>- <![endif]>Politics & Policy - covering American policy's intersection with business;
<![if !supportLists]>- <![endif]>Technology - the one-stop shop for all things tech, where readers can find the latest in technology news. The section closes with a weekly innovation profile;
<![if !supportLists]>- <![endif]>Markets & Finance - bringing readers the latest news and insights from the financial services industry. The section closes with Bid & Ask, featuring briefs on items, brands, and companies recently bought and sold.
<![if !supportLists]>§ <![endif]>Within the Sections department, readers will find regular features including:
<![if !supportLists]>- <![endif]> Speed Dial -  a Q&A-in-brief;
<![if !supportLists]>- <![endif]>Obituary -  paying tribute to a great thinker in business;
<![if !supportLists]>- <![endif]>Quoted -  featuring notable quotes from captains of industry and global leaders;
<![if !supportLists]>- <![endif]>Drawing Board - light-hearted business-related cartoons.
<![if !supportLists]>§ <![endif]>Acclaimed interviewer Charlie Rose will continue to write a weekly column showcasing smart conversations with the best thinkers, CEOs, politicians, and other newsmakers. The column will float within Sections, based on the interview subject.
<![if !supportLists]>§ <![endif]>The Etc. section offers readers lifestyle coverage through a business lens. In each issue, it will delve into topics that relate to the culture of what being in business is about, including business travel guides, books, consumer electronics, and more. The department includes a roster of possible elements, including:
<![if !supportLists]>- <![endif]>Hands On - the new home to the weekly consumer technology column, written by Rich Jaroslovsky.
<![if !supportLists]>- <![endif]>The Stack - an in-depth book review with a shorter sidebar rating related books. 
<![if !supportLists]>- <![endif]>Next Life - a brief profile of a leader that has been successful in one career then gone in an entirely new direction or pursued another passion outside of work.
<![if !supportLists]>- <![endif]>A Free Day In… - offers readers suggestions on how to spend their time in various cities, should they have an extra day out of town on a business trip.
<![if !supportLists]>- <![endif]>Wealth Management - a personal business feature that focuses on investment strategy, rather than just stock-picking.
<![if !supportLists]>§ <![endif]>The magazine closes each week with Hard Choices, offering a leader's insight into how they made a tough decision, who they turned to, and the consequences of their decision.